Artistic soak off gel polish
Eyebrows                                                                     £13.00

Lip or chin                                                                    £10.00

Lip and chin                                                                 £18.00

Bikini line                                                                     £15.00

Half leg                                                                         £18.00

3/4 leg                                                                          £24.00

Full leg                                                                         £30.00

Underarm                                                                    £15.00

Full leg & bikini line                                                   £40.00

Forearm                                                                       £18.00

Back or chest for men                                              £25.00 

(strictly by recommendation only)                                                                                                
Nail paint                                                                          £30.00
French                                                                               £35.00
Soak off before re-application                                        £5.00
Soak off only including filing and cuticles                   £15.00
IBX light cured nail treatment to repair and

strengthen from within                                                 £10.00

A course of 4 weekly appointments is recommended.
​Tinting*
Eyebrows                                                                            £9.50

Eyelashes                                                                          £16.00

Lashes and brows                                                           £24.00

Eyebrow tint and shape                                                £20.00                                                 

* A patch test is required 48 hrs prior to treatment      
Electrolysis
using the diathermie method
Initial consulation free

Up to 5 mins                                                              £12.00
​
10 mins                                                                        £15.00
15 mins                                                                         £17.00
20 mins                                                                      £19.00                                                             
Make-up using Jane Iredale mineral make up
Lesson​

Your chance to learn a full daytime or evening make-up!         

Time:1 hour                                                                       £50.00
Bridal *Includes a trial   

Time: 1 hour  and 30 mins for trial to discuss your requirements then approx 60 mins on the day.     

 £90.00 (payable at time of trial)
Extra charges are incurred for travel if Bridal makeup on the day is away from the clinic.

​

Cost may vary. Maximum of 5 miles from clinic.

Express for a special event/ night out  or Prom                      Time: 45 mins                                                                £35.00

Receive a 10 % discount on Jane Iredale make up order!
Nail paint using Morgan Taylor

Incudes cuticle work and nail file       
Time:30 mins                                                             £20.00
Pamper manicure using Artistic Soleful products
A conditioning, restorative, anti-ageing hand treatment. Includes cuticle work, nail file and optional nail paint. 
Time : 1 hour                                                              £35.00

​

Foot Treatments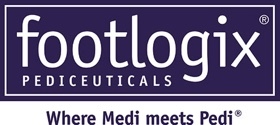 Footlogix is the worlds' first and only Pediceutical® Mousse Foot Care line made with pharmaceutical-grade ingredients developed by Katherine von Gavel, one of North America's leading authorities and true pioneers in pedi-care.
Using ground-breaking Dermal Infusion Technology®, along with its scientific formulation, enables active ingredients to penetrate faster and deeper into the troubled skin of the feet.
With results seen in a mere few days from eliminating simple dryness to addressing more severe conditions resulting from Diabetes, Footlogix has been clinically proven to perform.
 Footlogix professional pedicures focus on treating foot and nail issues, from eliminating dryness, to addressing more severe conditions resulting from Diabetes.
The complete Footlogix 10-step professional pedicure is carried out using Footlogix professional pedicure products, as these have been scientifically formulated with pharmaceutical-grade ingredients and developed specifically for podiatrists, pedicurists, and industry professionals.
The perfect pedicure for men or women. Highly recommended for runners, athletes and anyone leading an active lifestyle.  Safe for diabetics. 

FootFiX
Focused treatment on general foot problems such as dry, hard, rough skin, cracked heels and calluses to help you on your way to healthy, happy feet.

Including a non greasy foot mousse that penetrates moisture deep into the epidermis layers of the skin.
It doesn't include any cuticle work and no nail polish.

Time:30 mins                                                                  £32.00      

Prescriptive Footlogix Pedicure


Includes nail polish removal, nail trimming and shaping, anti-microbial foot soak, exfoliating seaweed scrub, cuticle care, conditioning cuticle treatment, dry-heel and callus work, non-greasy moisturising foot mousse, hydrating lotion foot and lower-leg massage, and your choice of nail polish or buff.

Time:60 mins                                                                   £45.00










​
Experience life in its most enlightened state.  


Sole-ful™ gives you the power to rebalance, relax, rehab and recharge, for the ultimate rejuvenation of mind, 

body and soul. 


Sole-ful™ elevates your services to a higher state of pampering and cleanliness with mood-changing aromas.


Involves a full soak, hard skin removal, nail tidy, mask, massage and paint.


                                                          £40. (Add £5 for gel paint)

Time 1 Hour.